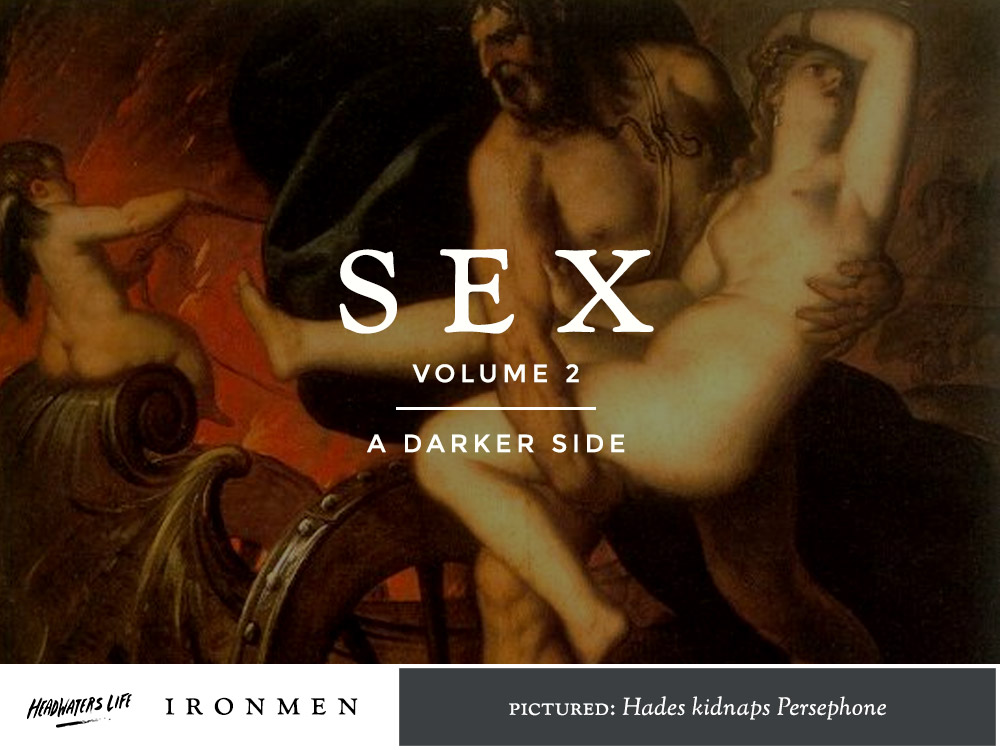 Last time we talked about sex (in Sex 1), I thought it'd be helpful to identify the different scenario-types of sex. But sometimes it's easier to describe what is right, what is beneficial, and what is desirable only by describing what can go wrong, what the challenges are, and where the pitfalls occur. Such is the case with developing human sexuality. As a parent of 3 children, it's a universal parent thing that we strongly desire our children meet a special someone and have a fantastic marriage (which we silently assume contains healthy satisfying sex which, as a parent, is a little awkward to think about). Since sex is private, it's not talked about much in polite circles. The lone time when I asked my dad about sex, he replied "You just need to learn about it in the gutters where I did." Ha ha. "Seriously, Dad…" "No seriously." End of discussion. Okaaay. (Literally verbatim).
One of my Ironmen cohorts has 2 boys that illustrate today's challenges for parents and for you. Much more forthcoming than my dad, my buddy and his wife are equipping their boys with knowledge. Understanding the landscape we all face in trying to create a healthy life in an unhealthy world it's still uncomfortable to discuss in a straightforward manner. But for their boys health and well-being is critically important given the downsides that exist. My friend's boys are in their mid teens, liked by girls for all the right reasons – great guys. They are entering the age when girls become more forward, peer pressure is ubiquitous, the internet is quicksand, and the urge to spurge is upon them. So what are the topics of conversation my friend should have with his boys? The same ones you should consider anew, particularly if your dad was like mine and didn't cover it.
Masturbation: Yes it's a reality. Every male does it. It's not inherently bad, but it can lead to guilt and other problems if not managed properly. In my opinion, proper management is to "get 'er done" and get back to your life. Don't obsess over the mental images or the potential subsequent guilt. My high school girlfriend's brother threw his stereo through the front window of their house due to the guilt of masturbating. Yeah, messed up. The main problems with flogging the dolphin is (a) the huge waste of time prior to climax, (b) the desire to supplement with visual stimulation (aka porn), and (c) the internal conflict about the recurring urge versus feeling guilty about not being able to control it. Plus the whole Bible ambiguity of God killing Onan is more about rebellion and seems a little messed up anyway with the law requiring him to sleep with his dead brother's wife. But I don't think it's a biblical prohibition against masturbation. Bottom line: I think dads should discuss the normalcy of this, encourage management, and reassure family love. For you – self management.
Porn: Porn is a big deal. The effect porn has on the human brain is exactly similar to the gateway pleasures of drugs and alcohol. The first time feels good and what on earth could be the downside? The second confirms the thrill. Within no time, hours can be wasted alone surfing increasingly bizarre forms of sexual… intimacy?, no; expression?, no; adventure?, nope; perversion?, yep that's it. What is known by good marriages to be a wonderful intimate expression of love has been perverted by marketers to make bank off of human nature's requirement. Porn is not just an indulgent waste of time, it can prevent relationships from forming as described in this brilliant article: Don Jon – How porn is rewiring men's brains. You need to read this article. Once a brain has been rewired, real life relationships can have a tough time becoming intimate. There is a real risk that you could become more "satisfied" with masturbating to porn rather than making love to a real woman. I know of several marriages that split up due to the guy's inability to forego porn. Whether you're married or not, read the article.
Girls: The historical barriers on sexuality are not only greatly reduced, but society thinks empowerment by women requires sexual aggressiveness. The hip part of society thinks that young girls should take control of their sex life and be promiscuous. The latest Madonna clone, Miley Cyrus, is targeting 14-19 years olds for lessons in twerking. The result of society's dysfunction is evidenced in high school and college grinding, sexting, hook ups, and who knows what other new craze. I'm not saying women shouldn't be empowered, but what is obvious is increased sexualization by both young men and young women has consequences. Those consequences are not obvious to the participants because sometimes people have to crash and burn a few times to come to understand that "free sex" isn't free. An article today points out that 40%, 40%!, of all children are born out of wedlock. The majority of those new lives are born into poverty because of the difficulty of raising a child in one parent household.
Even if no babies are produced, sex too soon in a relationship results in shallow roots. It would be better for young people to forego sex until they're more mature to handle its complexities. I say that from a practical standpoint and not a moral one because the link between casual sex, broken relationships, and childhood poverty is undeniable. I'll leave the morality position to someone else. But to you who are unmarried, it would be wiser to show some restraint. I know logic doesn't play a role at go time, but if you weigh the two paths between having sex and holding off, your life won't turn on a dime if you held off one more time…even if you're not a virgin. Whereas, if you follow the urge, it could change your life rather dramatically. Just sayin'. Don't let Johnson or society tell you when you should have sex. You decide when you're ready. Prior to the situation.
My friend's parenting life stage is about providing guidance to his boys in advance of their life situations. Those boys will likely take their dad's advice because of their trust and faith that their dad (and mom) have their best interests at heart. Those boys will likely take that parental advice and navigate all the turbulent rapids of high school, college, post college, dating, and marriage. Of course the advice fades as experience takes over, but don't miss the point – the boys will likely lean on their parents guidance in this tumultuous dawn of their sexuality. Absent parental guidance (or lack of faith in parents) leaves young men and women burdened with the heavy load of ignorance with which to navigate sex.
So where are you? Do you have a Dad like my friend who has provided valuable counsel over the years that has helped you develop self management and direction? Or was your sexual discussions like mine, non-existent? If the latter, the difference between you and me, however, is that I didn't grow up in a world that is soooo sexually charged with porn on demand and aggressive women willing to give it up on the first date. There are real pitfalls where you can lose your future just as if you were a high school pot head that fell into harder things.
In your Ironmen group, discuss the parental education you received and how you'd do it differently. Even though you don't have teenage kids now, you will. By reviewing your own teenage experiences, you can re-parent yourself and improve your own sex life by clearing out possible pitfalls that can get in the way. As a result, you'll be happier, a much better father, a better husband, and maybe a better lover.
To your continued sexcess,
Dave
Subscribe to Ironmen
Get an encouraging letter each week to provoke your thinking.
Every Friday you'll get a short reflection on life intended to get you to think about things a little differently.
Subscribe to Ironmen