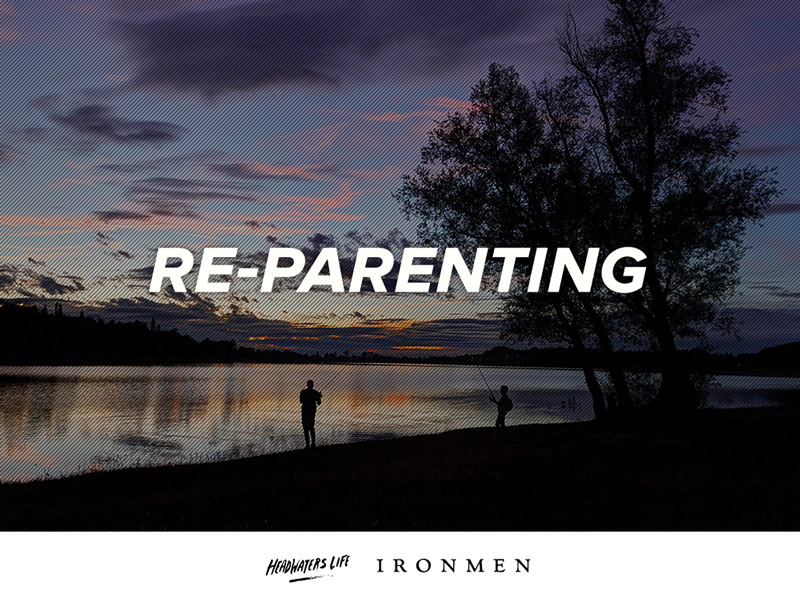 As I sit down to write these lines, I agonize like a dad on how to connect. I ask myself again and again how I can come up with a concept, a phrase, an example, an analogy to open up the aperture of a young man who, knowingly or not, is seeking the path. For I am a dad talking to a son on the multitude of thoughts, attitudes, skills, habits, and perspectives that mark the path. Hopefully, the goal of a dad is to equip his sons and daughters for the life to come. But it gets complicated as he grows from baby to boy to adolescent to man. Intentions get lost in the maze of life. The baton is handed off well or poorly, but handed off nonetheless. So each son, now a man, must take over the job of equipping for the life to come. And, regardless of the quality of parenting that has gone before, he must go back and re-parent himself into manhood.
"The ball is red".
What just happened there is a miracle. Think about the complexity of that little line. I conceptualized an image of ball and red. Through the miracle of language and subvocalization, I silently sounded it out while holding the image in my mind. Instantly, I was able to translate the image and subvocal sounds into symbols I learned a lifetime ago through that cute ABC song. I learned to type in high school and can now type fast enough to keep up with my thoughts. Because of the compounding of human learning and capitalism, I typed the symbols onto the computer screen that is captured and saved in the Cloud. All of that is miraculous enough, but the real miracle is what follows. You are now reversing the process of capturing from the Cloud the symboled thought of a red ball so that you now hold the image of it in your head. It is a miracle of transferring conscious thought from one mind to another.
But you move out of "Red ball" dialogue pretty quickly. What happens if the son doesn't want to read these letters? Or he wants to but doesn't know how to open your email? What if you're pissed off at me that I say the ball is red when it's really magenta? What if I'm drunk and say the "lob is ded"? What if you're hungry and tired? What if.. what if? So even if your parents were fantastic, these what-ifs created a suboptimal growing experience. In thinking about parenting, look at the increased complexity necessary to communicate.
My dad (whom I love and who loved me) used a technique that I wouldn't recommend. Negative psychology was the term he gave it. "I bet you can't…run to there, catch this ball, finish first…" His thinking was that I'd respond "Oh yes I can! Just watch me!!" and then I'd buckle down to prove him wrong. His dad was an alcoholic so maybe that's why he liked that idea. Well as it played out there are pros and cons: I ended up being successful for whatever reason. I intellectually understand his point. I have had to work hard at confidence almost my whole life. I've also had to work at positive self talk. I have been known for sarcasm and a biting sense of humor. All attributed to negative psychology? Who knows.
So the point is: you come from your unique background that has some good and some less than good. For you to hit on more cylinders, you need to understand the inputs you've received and come to grips with how they have formed your current self. But importantly, you need to realize that you can change. You're not stuck with who you are. You have been given the power to grow out of your history and into your future. Obviously if your parenting inputs were way down the quality charts, you have more work to do, but everyone must own their life and reevaluate their childhood.
A friend of mine had a dad who was a cad in his early years. Divorced his mom due to philandering. He drank a bit and womanized a lot. As my friend grew up, his dad wanted to bring him along on some of these escapades. Needless to say, my friend had challenges with appropriateness and women and, as he grew to understand this dysfunction, his dad. The guilt and anger he had for his dad played a significant role in his marriage and business life. I suggested that he write a letter to his dad, get it all out on paper, pour over it with all the emotions, then send it…to himself. Then I suggested that he write a response from his dad, sign it from his dad, and actually send it to himself so he could get it in the mail and open it. He took that advice and said it helped him quite a bit.
My friend did this heavy lifting in his forties. He eventually forgave his dad's shortcomings and they have a good relationship today. I did my lifting in my thirties and my dad and I had a great relationship. You should start today.
The journey from red ball to college between father and son is an incredibly complex and dynamic miracle. It would be so even if everything else in life were stable and enriching. But that is far from the case. A father must first navigate his own shortcomings, his ignorances, biases, intentions, childhood, economics, and relationships that all influence the quality of his parenting. You can only pour out from your jar into a child what you have in it. And if your marriage is challenged, or your job, or your health, or the health of one of your children, etc, etc. etc, your jar runs a little empty. Therefore, you as the son must take over the job of parenting. You must go back and forgive and fix in order to grow.
From a dad – for your continued success,
Dave
Subscribe to Ironmen
Get an encouraging letter each week to provoke your thinking.
Every Friday you'll get a short reflection on life intended to get you to think about things a little differently.
Subscribe to Ironmen